Before we begin, I must talk about what I mean by editing, and what I intend to cover. I believe that the most important thing about editing is code completion. In this section I pay special attention to python although PyCharm offers superb code completion for other languages like SQL and JavaScript.[1]
I start off with code completion, because if you're like me, you have little time and want to dive into the thick of things and code completion is what we want most out of an IDE.
Then, I talk about a couple of editor settings that help keep me sane.
PyCharm's editor is very powerful and extensible. In this section we will go over some useful tools that I use to write less error prone code faster.
This part covers the settings regarding the editor for better workflow. The options I set are based on my own preferences and hence not scientifically tested but they do make my editing a lot faster. Take the following advice with a healthy dose of skepticism since what might work for me, might not work for you.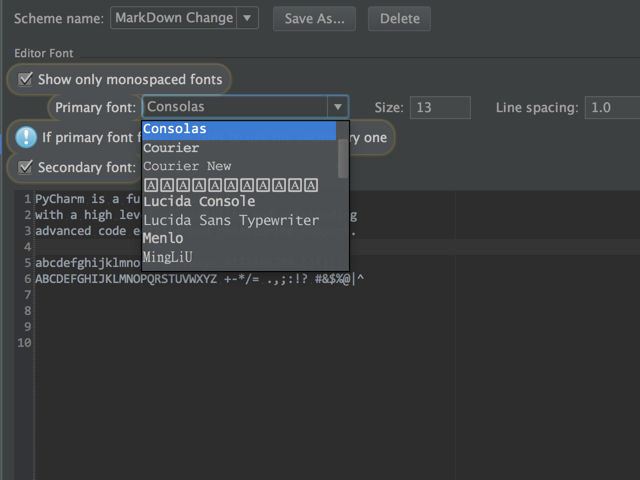 Consolas is the only font that looks good on Windows, Mac and Linux. Consolas remains monospace regardless of whether it is bold or italic, and the only font that looks consistently good in PyCharm. I have tested this on Mac OSX Yosemite, Windows 8.1 and Ubuntu (14.04).[4]
If you've had success with other fonts (especially in Linux), please do mention them in the comments.
A lot of the time, I forget to put parentheses around things or quotes around strings. By enabling the following option, you can select text, and when you press " or ' or ( or ), instead of replacing the text with the character entered, it will surround the selection with quotes or parentheses: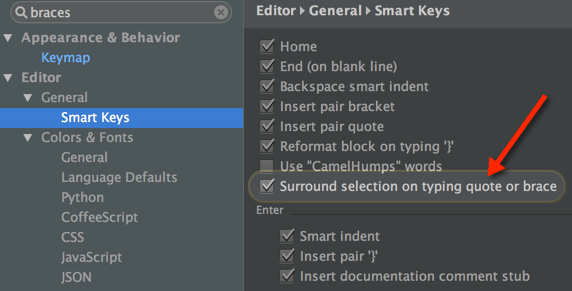 By default, PyCharm comes with first letter case sensitivity, meaning that if you were to type e, Exception would not be offered as a viable completion. This is why I disable case sensitivity: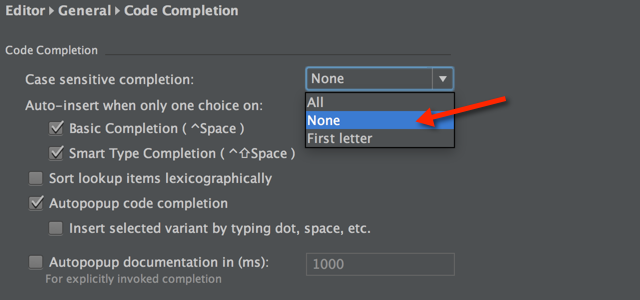 Please note however, that on slower machines this does make code completion slower.
I will likely be covering how to deal with interpreters.
I talked about a couple of things in part one.
2015-01-19 11:41 : Added a section on Spelling Correction
---
| | |
| --- | --- |
| [1] | I will cover javascript, html and other stuff in another section that deals with web tools. Don't worry I know that they are indispensable tools, and will make sure to give them the time they deserve. |
| | |
| --- | --- |
| [2] | (1, 2) Use the keymap to find your corresponding keyboard shortcut discussed in the previous part. |
| | |
| --- | --- |
| [3] | Don't worry if you don't know what emmet does, I'll cover that when I cover web tools. |
| | |
| --- | --- |
| [4] | Take a look at this answer if you want to use consolas on Ubuntu: |